Real Homes
Real Homes is number-one selling real estate theme in WordPress themes market and it contains almost all the features a standard real estate agent could need. It is frequently updated with new features and improvements based on customers feedback.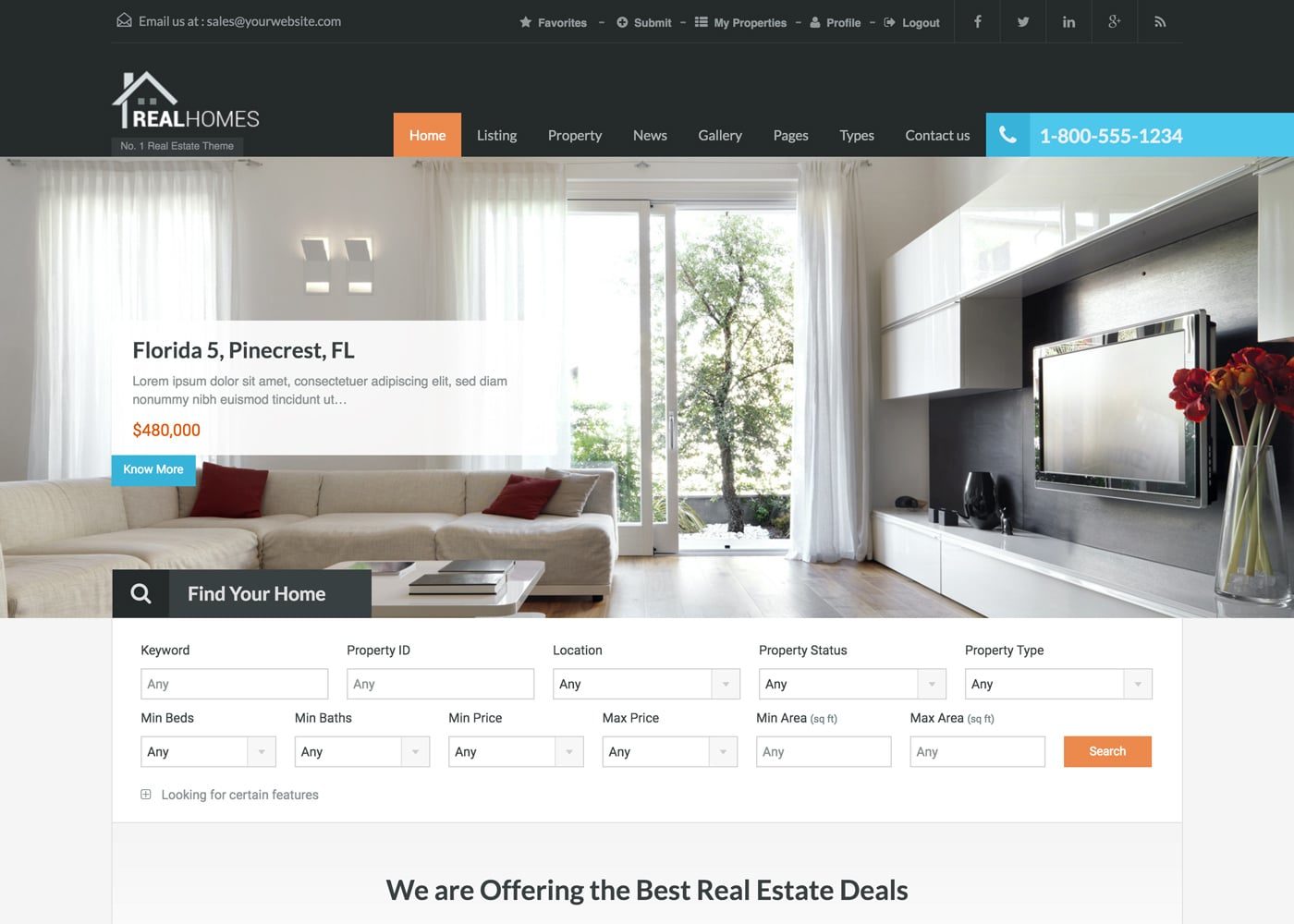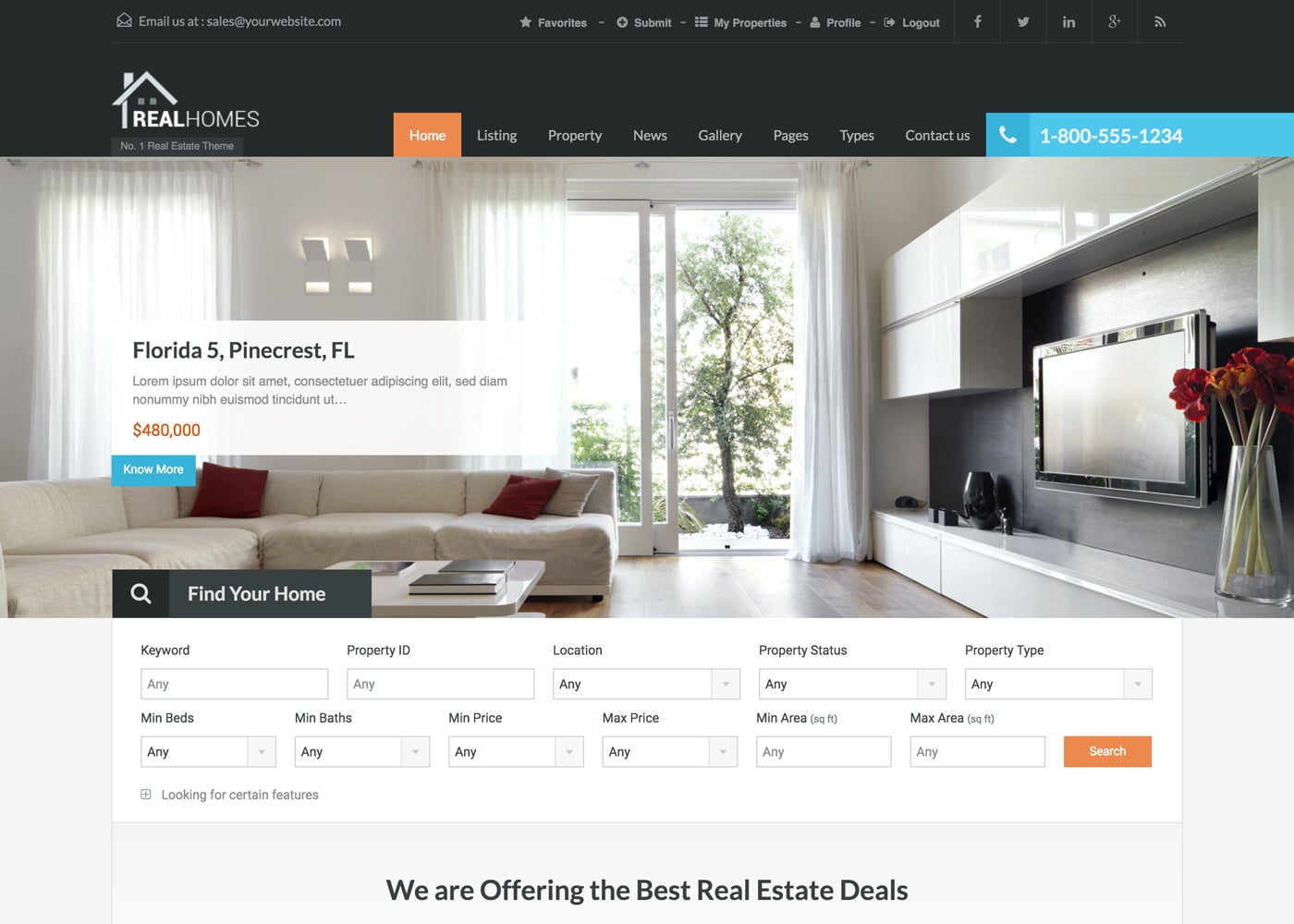 Categories
Last Update
18 September 2020
Browsers
IE11, Firefox, Safari, Opera, Chrome, Edge
Requirements
WordPress 5.0.x or Higher

Advanced and Fully Customizable Search Form
You can choose which fields you want to display and what data will be displayed in those fields. You can display multiple location fields to provide search behavior like State > City > Area. In short you can change almost everything in search form.
Google Maps Integration
Real Homes theme comes loaded with Google maps support that enables you to display Google maps with properties markers on search results page, properties display pages, property detail page, home page and taxonomy archive pages.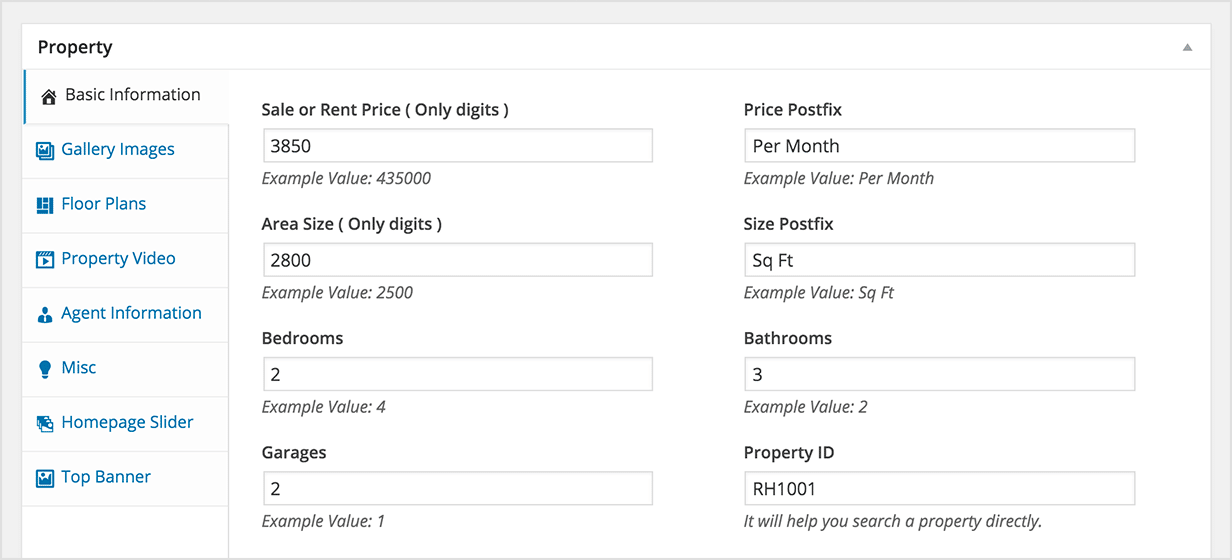 Easy to Use Interface
Real Homes theme provides a rich set of meta boxes on property add/edit page, To make it super easy for you to add/modify information and media files.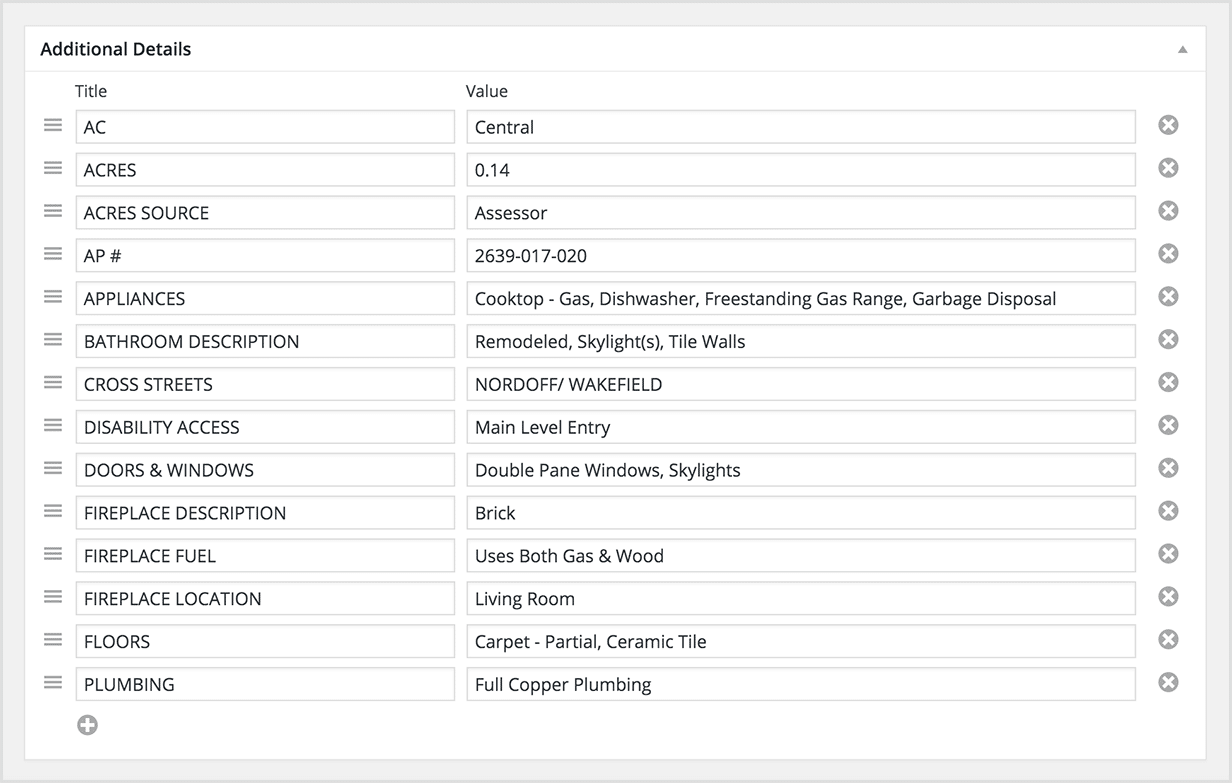 Facility to Add Additional Details
If you have certain type of information about your property that cannot be added in standard input fields provided. Then there is a flexible form available in property add/edit page in which you can provide that additional information. This additional information will be displayed on property detail page.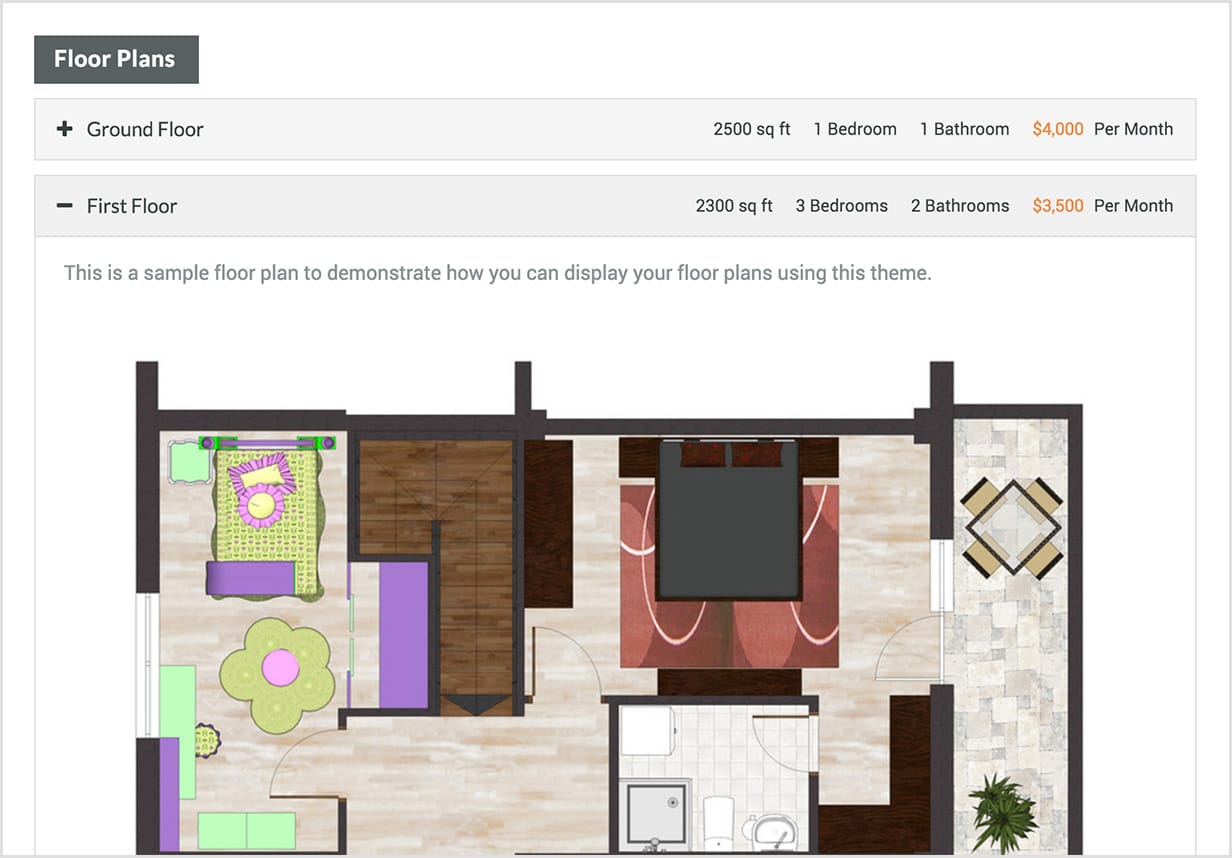 Add Property Floor Plans
Real Homes provides a very easy to use interface to add floor plans related to a property. You can provide separate title, area, beds, baths and price for each floor plan.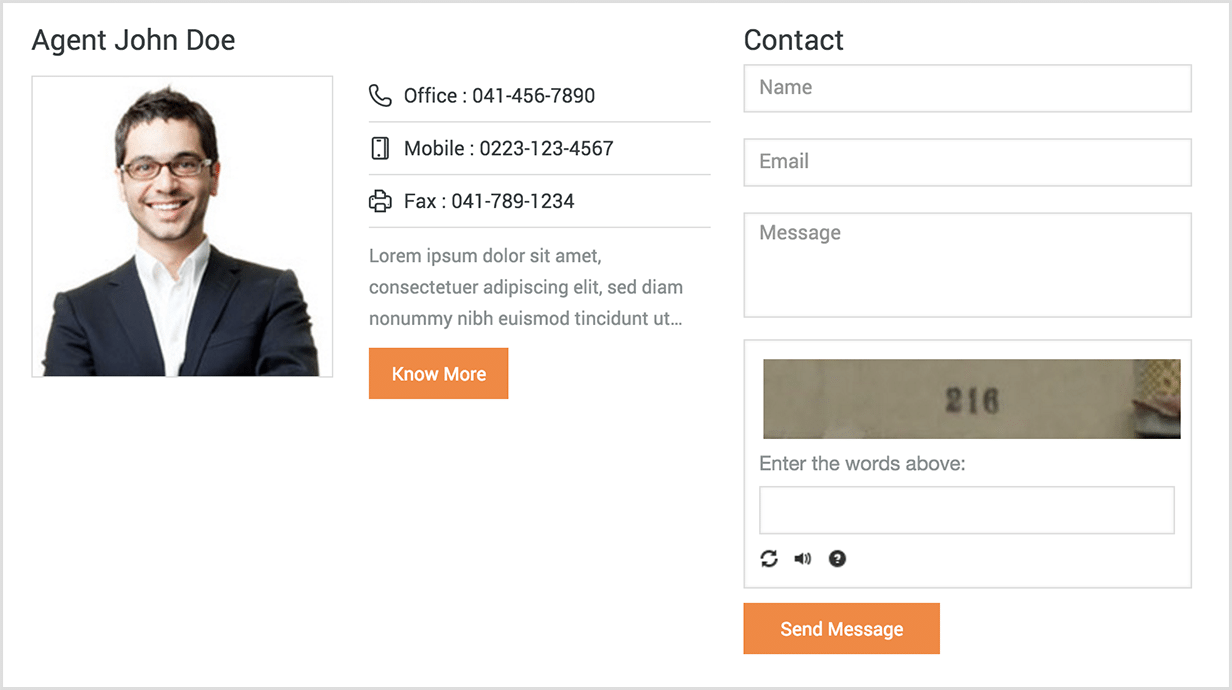 Spam Prevention Using Google reCAPTCHA
Real Homes theme comes with Google reCAPTCHA API integration support for all contact forms, This effectively protects you from spam messages.
Front End Property Submit Template
Real Homes theme provides a front end property submit template and related customizer settings. So you can restrict certain level of users from accessing administrator dashboard and provide them an interface on front end to submit properties. Later on website administrator can review and publish the submitted properties. You can also configure the settings to auto publish a property as soon the user pays a certain fee for it using PayPal.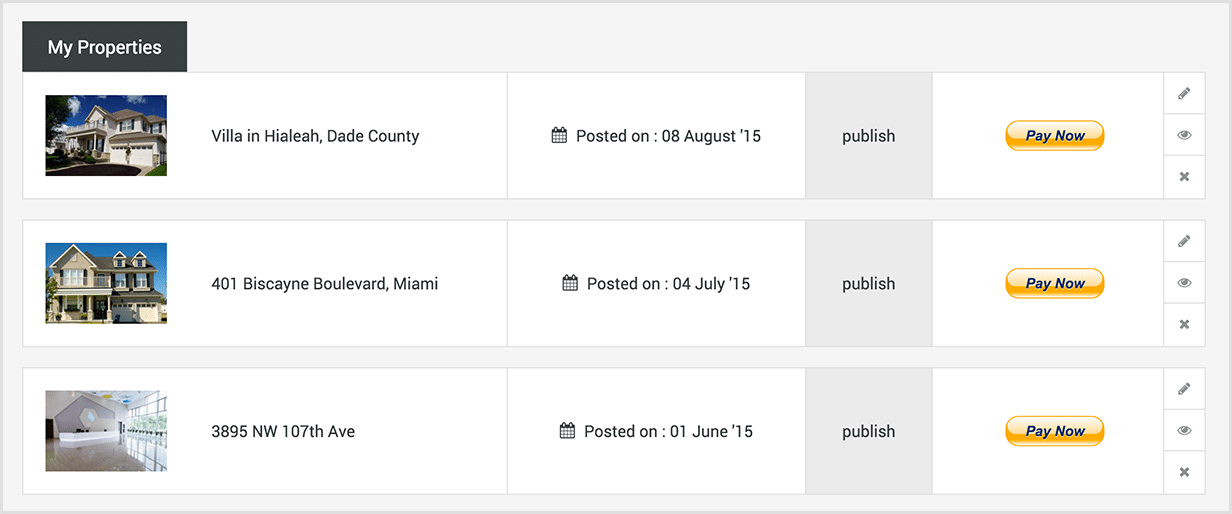 My Properties on Front End
Real Homes theme provides a template to display properties created by currently logged in user on front end. This template can be used to preview pending property, edit property, make a payment for a property or even removing a property. A user can pay through paypal to get his submitted property published. Payment feature can be enabled or disabled from theme options.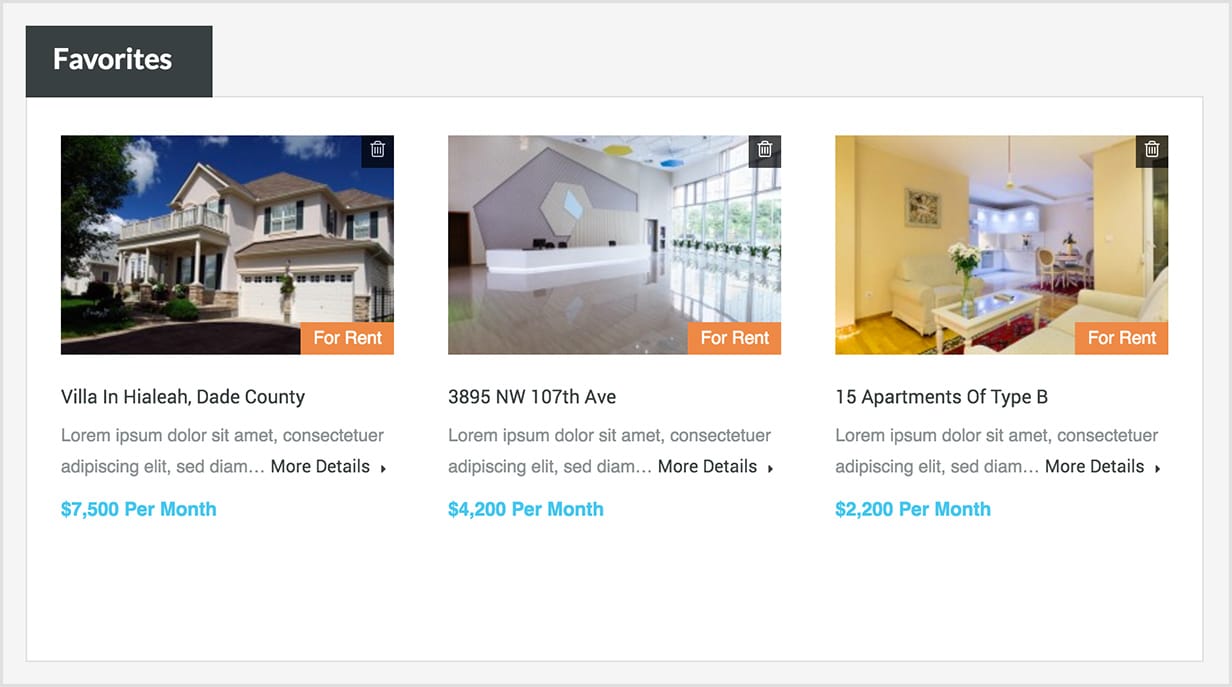 Favorite Properties
A visitor can add a property to his favorites so that he can visit the favorites properties page later on and find his short listed properties. Later on he can also remove a property from his favorites collection. A visitor do not need to login to use this feature.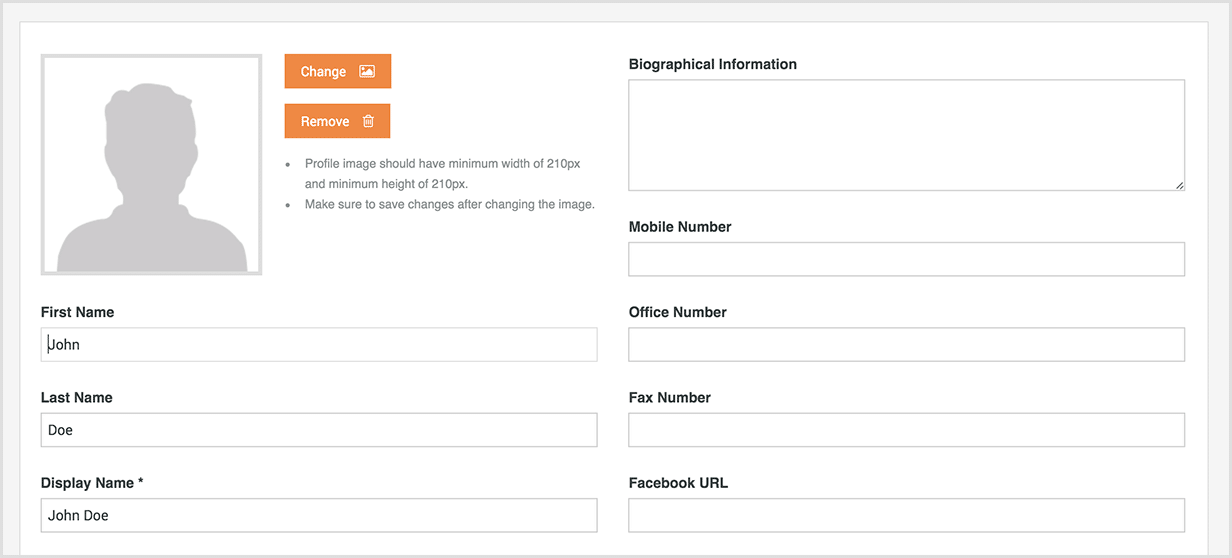 Front End Profile Edit
Real Homes theme provides a front end profile edit template. This template enables a loggedin user to edit his profile information without going to dashboard.
Detailed Documentation
Real Homes theme provides an easy to understand yet detailed documentation. It will guide you at almost every step, Either it is a configuration OR adding some sort of contents OR installing a compatible plugin.
More Features
List and Grid Layouts
Real Homes theme provides page templates to display properties in list layout and grid layout. These templates are also supported with meta boxes to filter and sort properties based on your requirements.
Multiple Gallery Templates
Real Homes provides multiple templates to display your properties in the form of a gallery. Each template contains a quick filter based on property statuses.
Easy to Use Customizer Settings
Real Homes theme provides a wide range of customizer settings that will help you configure and customize a lot of stuff around your website. These extensive settings makes Real Homes a very easily customizable theme.
Property Attachments
You can provide various types of files ( pdf, office documents, images etc ) as an attachments to a property and visitor can download those attachments with one click.
Similar Properties
Real Homes theme provides similar properties module on property detail page which displays properties similar to current property. You can show or hide this module from settings.
Parent and Child Properties
Real Homes theme provides a sub properties module on property detail page to display any sub/child properties ( like apartments in a building ). Each child property works as a fully independent property.
Login, Registration and Forgot Password
You can provide user registration, login and forgot password features on your website to let users access member only features, Like front end property submit.
Filterable FAQs Support
Real Homes theme provides FAQs support, So you can add FAQs in various groups and later on display them on your website using a group based filter.
Translation Ready, RTL Supported and WPML Compatible
Real Homes theme is translation ready and you can translate it to any one language ( LTR or RTL ) without the need of a plugin. But, If you want to build a multi language website then you can use a plugin like WPML.
Child Theme Included
Real Homes theme's main package contains a ready to use child theme to make it easy for you to get started with modifications and keep updating the parent theme whenever the new update becomes available.
One Click Demo Import
Real Homes theme provides one click demo import feature to help you quickly setup your site like the theme demo and learn all the things by observing how those are done on demo site.
Various Custom Widgets
Real Homes theme provides various custom widgets like Advance properties search widget, Feature properties widget, Featured properties related to a particular agent and property types widget.