Millions of websites display advertisements as a monetization model. It is an effective method to generate passive income from your website. If you have decided to display ads to make money from your website, there are multiple ways to it. The most common way is to sign up for Google AdSense and place their ads on the website.
However, since Google AdSense cuts approximately 32% from your revenue as its fee, it is not the most appealing solution. For most people, that fee is justifiable because you no longer have to actually look for advertisers. But if you are looking to remove the middle-man and sell ads directly, you will need a WordPress ads management plugin to place and manage ads.
In this post, I will emphasize the need for an ads management plugin and list WordPress plugins to help you.
Why to Use Plugins for Placing Ads?
There are two ways to place ads. One way of doing it is coding in the theme, sidebar or within a post. The second way is to use an ads management solution. The difference between the two is that of flexibility and ease of use. Here is a rough comparison of both methods:
Ease of Use
When you direct sell ads, you need to manually write the code for it. To do that, you need to use HTML/CSS and the code has to be placed properly in the theme. Which makes the manual method of placing ads somewhat difficult as compared to ads plugin, which automatically generates the code & provides easy means to place ads.
Tracking
When you manually place ads on your website, there is no way to find out how many times the ad was viewed, the clicks it garnered or the conversion rate. Whereas most ad placement plugins offer tracking features.
Automation
What if an ad's validity per its charges has expired? What if you want to target the visitor demographics (location, age, etc.) accordingly? Manual method has no way of automatically disabling expired ads, nor is there a way to target ads. With ads management plugin, the case is otherwise.
WordPress Plugins for Placing Ads
Let's review some of the popular ad placement plugins in WordPress.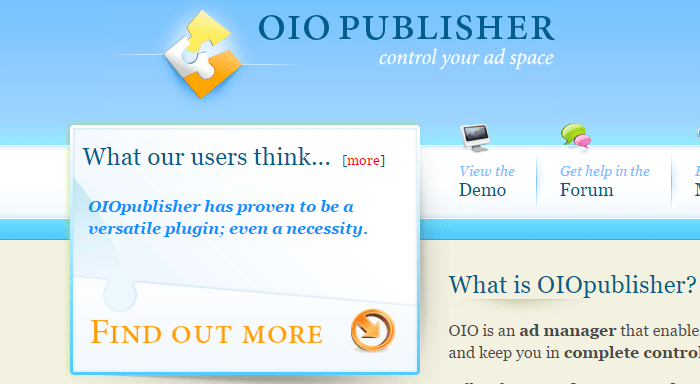 OIOPublisher is a powerful ads management solution for WordPress users. It cuts the middleman and provides you an easy-peasy means to keep 100% of your revenue. It is a premium plugin and offers tracking and payments features.
Features
Payments: It allows you to sell advertisements directly from your website via PayPal and 2Checkout.
All types of ads: It does not matter if it is a text, inline or banner ad, you can sell them all.
Default settings: If no ad slots are sold, you can display default ads until.
Automated: Expiry and disabling the ads is handled automatically, just set it and forget it.
Tracking: You can track the impressions and clicks made on the ads easily.
It is one of the best ads management plugins. Aside from the features mentioned, it has many others benefits to offer.

AdRotate is a free ads management solution, offering a pretty big list of useful benefits. There are three methods of placing ads with AdRotate i.e. shortcodes, PHP, and widgets. One of the impressive feats of this plugin is that it has more than 50,000 active installs.
Features
Usage: Adding new advertisements is as easy as adding a blog post. To manage ads, just go to AdRotate > Manage Ads. With the ability to group multiple ads, you can also rotate ads. The plugin is pretty easy to use once you get the hang of it.
Advertisers' dashboard: You can also let advertisers create, edit and manage their ads.
Tracking: AdRotate tracks various stats regarding the advertisements so you can follow on the performance of each ad.
Pro version: Plugin is not working as advertised? Facing problems managing the ads? You can buy the premium version of the plugin, which has many extra features among one-on-one email support.
This is the best ads management plugin in the category of free solutions.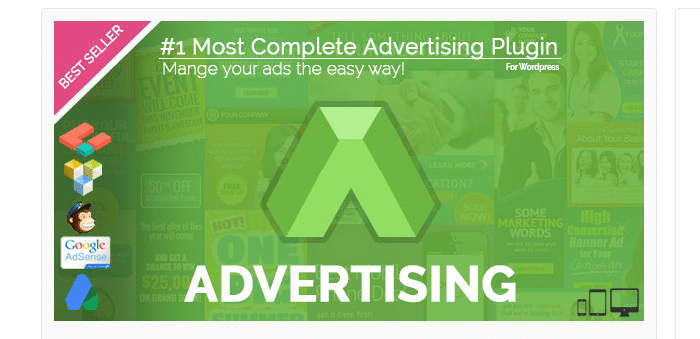 WP Pro Advertising System may be the ultimate to manage ads, advertisers, and track performance. It is one of the comprehensive WordPress plugins with almost 5,000 sales as of this writing.
Features
General: It claims to be the best ad manager plugin. It lets you add ads, gives you the analytics tools you need and is compatible with Slider Revolution, MailChimp, and Visual Composer among others.
Pre-defined display options: Most plugins support only banner, text, and inline ads. That's not the case with WP Pro Advertising System. Because it gives you 18+ pre-defined ways to display ads.
Category based: With a recent version update, the plugin is also capable of only displaying ads from a certain category.
The plugin is a CodeCanyon item and costs $29 per regular license. It also offers add-ons like Buy And Sell Ads.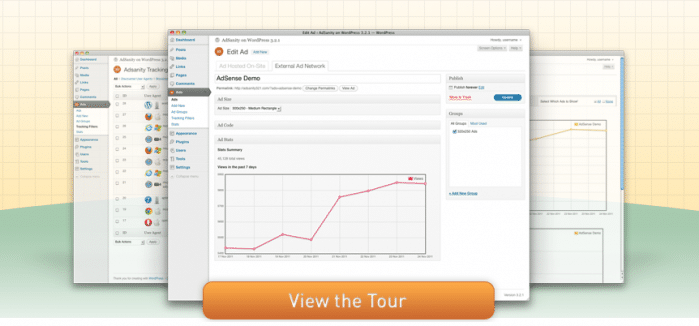 AdSanity is an ad rotator plugin for WordPress. It is lightweight, fast, and simple to use. Among its major features is the ability to display external network ads like Google AdSense via widgets and visual editor buttons. Creating ads and their groups with AdSanity is also pretty easy.
Features
Scheduling: You can configure ads only to be active within a certain timeline, or leave them for infinity.
Adding ads: Once the plugin is activated, just go to AdSanity > Create Ad, select ad type i.e. local or external network ad. To add a local-based ad, you need to set a title, ad dimensions and specify its validity.
Reporting: If you are following a cost-per-click (CPM) charging model, optimizing for a better conversion rate can add to your revenue. That is why it is important to keep track of ads' performance. AdSanity's Graphical Stats allow you to see graphically views and other important stats.
Conclusion
Selecting an ads management solution suited to your needs can improve the financial stat of your site. Personally speaking, the plugin which lets me monetize easily and has a good deal of tracking tools, that'll make the deal for me.
What is your favorite plugin from this list? Is there any other solution that should have been included here? Share your experience about it and drop in your feedback in the comment box below or reach out to me via Twitter @MaedahBatool.